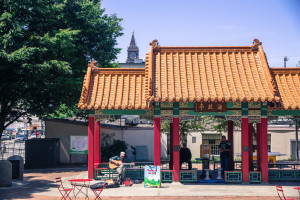 Seattle's Chinatown was initially established and located just east of Pioneer Square when Chinese laborers were recruited to work on railroads, coal mines, and other labor-intensive jobs around the Pacific Northwest in the 1880's.
After the passage of anti-Chinese immigration laws and riots that forced over 300 Chinese residents from Seattle in 1886, the population slowly began to increase again. This led to the community's reestablishment in where the present-day Chinatown is located. Lining the streets of Chinatown and the rest of the International District (including Little Saigon and Japantown) are benevolent associations, restaurants, retailers, and historic buildings.
Historically, the International District also served as a place of settlement for Japanese, Filipino, and African Americans. Today, the area continues to serve as a cultural hub for Chinese, Filipino, Japanese, Vietnamese, Southeast Asians, and other Asian groups.
Notable places to visit include the Wing Luke Museum, Uwajimaya, and Hing Hay Park.
Did Ya Know: City officials proclaimed the neighborhood the "International District" in 1951 to reflect the different communities within the area.